Branded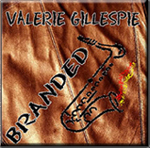 This recording by Valerie Gillespie shows us again why she is considered to be one of the hottest saxophone players around. Recorded live at the famous Springs Theater in Tampa, FL., featuring Rick Steuart on keys, Eric Sayer on bass, and Tim Belenger on drums. This is also Valerie's first project with Spirit Craft Records and has been a great hit.
I Love You
Laura
Footprints
The very thought of you
East of the Sun
A child is born
On the Street Where You Live
Angel
Stella by the Starlight
Alice in Wonderland
A Scrambled Unit
Amazing Grace
Recent Posts
September 25th, 2017 by
david
Join Valerie and the ensemble at the Firehouse Cultural Center in Ruskin FL for a night of Latin Music.
---