It Takes A Village . . . To Raise A Musician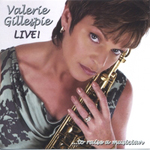 Valerie's live recording entitled "It Takes a Village… to Raise a Musician", that she performed in front of a packed house in central Florida in April of 2005. It features Valerie on vocals, saxophones, flute and clarinet, Rick on keyboards, Joe on drums and their good friend, the world famous Tim George on electric bass. This CD includes "Spain" by Chick Corea, Nat King Cole's "Nature Boy", and Diana Krall's "Peel Me a Grape", as well as some jazz standards like "Cherokee" and "Joy Spring", and has received rave reviews by the likes of Phil Woods, Buddy De Franco and many more. This one has seen incredible sales, and continues to be a crowd favorite.
Nature Boy
A Night in Tunisia
I've Got the World on a String
Spain
Blame it on My Youth
Peel Me a Grape
Cherokee
Poinciana
Joy Spring
Someone to Watch Over Me
The Folks Who Live on the Hill
I Love Being Here With You
When October Goes
Joy!