Lush Life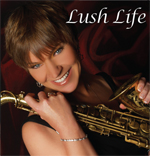 Valerie's newest CD is entitled "Lush Life", and it spans a wide variety of straight ahead jazz, from the beautiful title track, "Lush Life" which is a Billy Strayhorn ballad, to the high-energy samba of Dizzy Gillespie titled "Tanga". From the traditional jazz tunes "Honeysuckle Rose", and Billie Holiday's "Don't Explain", to the more contemporary works of Herbie Hancock's "Maiden Voyage" and Chick Corea's "You're Everything", this CD will take you on a historical jazz journey you won't soon forget.
Beautiful Love
Dearly Beloved
Honeysuckle Rose
Lush Life
Tanga Maiden
Voyage Almost Like Being in Love
Don't Explain Caravan
It's Alright With Me
Jane's Song
You're Everything
Recent Posts
September 25th, 2017 by
david
Join Valerie and the ensemble at the Firehouse Cultural Center in Ruskin FL for a night of Latin Music.
---